What is Carbon Steel?
Carbon steel is a popular material for a wide range of applications. It is inexpensive, readily available in numerous grades, and can be heat-treated to improve its strength, ductility, and machinability.
There are four main grades of carbon steel: low carbon steel, medium carbon steel, high carbon steel, and very high carbon steel. Depending on the amount of carbon present in the material, carbon steel forgings are hardenable by heat treatment to increase yield and impact strength as well as wear resistance.
Mild (low carbon) steel: approximately 0.05% to 0.25% carbon content with up to 0.4% manganese content (e.g. AISI 1020 steel). Less strong but cheap and easy to shape; surface hardness can be increased through carburizing.
Medium carbon steel: approximately 0.29% to 0.54% carbon content with 0.60 to 1.65% manganese content (e.g. AISI 1045 steel). Balances ductility and strength and has good wear resistance; used for large parts, forging and car parts.
High carbon steel: approximately 0.55% to 0.95% carbon content with 0.30 to 0.90% manganese content. Very strong, used for springs and high-strength wires.
Why use Carbon Steel Forging?
Carbon Steel is one of the main material types for forging. Due to its good strength, machinability as well as other properties, this kind of material is always used in closed die forging process.
Material cost of carbon steel forging is relatively much lower than other steel forgings. Especially compared with stainless steel forging, so carbon steel forging is commonly used for the applications of automotive , oilfield, ect.
The hammering of the metal during forging process eliminates most of the microscopic crystalline flaws, such as air bubbles and fissures, which characterize cast parts. This structural integrity makes carbon steel forgings stronger and better-suited to applications that involve high pressures and temperatures.
Leading Carbon Steel Forging Company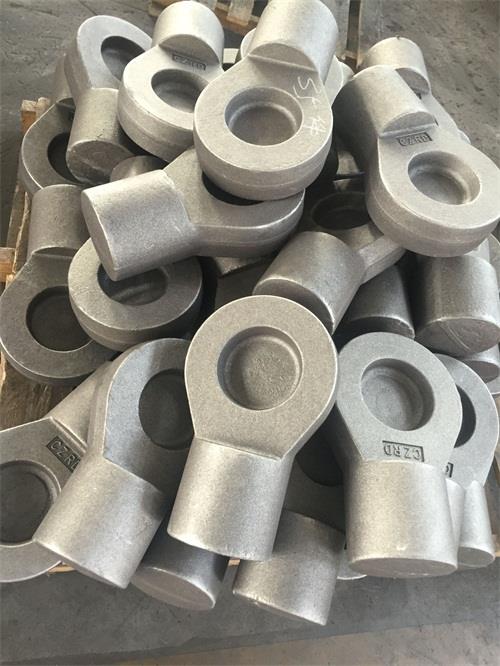 As the leading steel forging company, carbon steel forging is one of the main field that CFS Forge involved in. Our company manufactures high quality custom carbon steel forgings for industrial applications. Our forged parts are manufactured to the tightest tolerances in closed die method and are fully inspected and tested.
Main material specifications of carbon steel forgings used in our company are: 1020 Steel, 1035 Steel,1045 Steel, A105, Q235, Q345, 20CrMnTi,ect. Material certification will be provided together with our products.
With capabilities to provide carbon steel forgings up to 30kg, we can also offer other value added services such as machining, heat treatment, and surface coating accordingly.
Looking for a reliable forging company for your carbon steel forging project? Just pls do not hesitate to contact us. We will be your one stop source for quality products with competitive prices!