What is Stainless Steel?
'Stainless' is a term named in the early days for steels in the application of cutlery. It was adopted as a generic name for these steels and now covers a wide range of steel types and grades for corrosion or oxidation resistant applications.
Stainless steels are iron alloys with a minimum of 10.5% chromium. Other alloying elements are added to enhance their structure and properties such as formability, strength and cryogenic toughness.
The typical feature for stainless steels is its corrosion resistance for a specified application or environment. So all the stainless steel grades selected must initially meet the corrosion resistance requirements. Additional mechanical or physical properties may also need to be considered to achieve the overall service performance requirements. Stainless steel is commonly used material for metalworking processes, such as casting, forging and machining. Here we will introduce stainless steel in closed die forging process in detail.
Common Stainless Steel Grades for Forging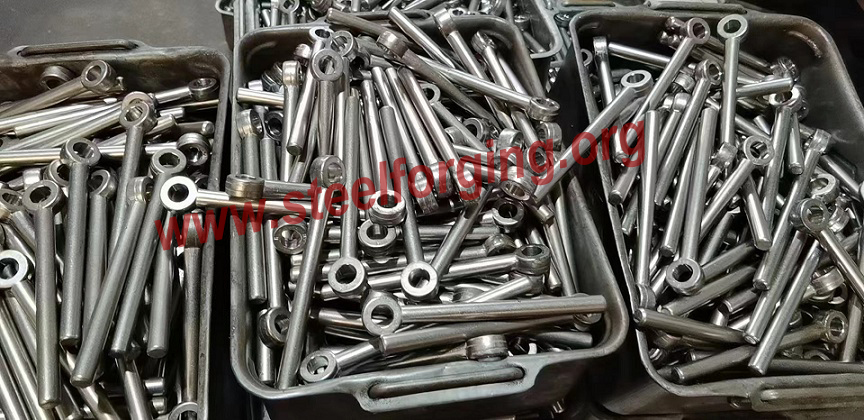 There are lots of stainless steel grades, for example: 300 series stainless steel (303, 304/304L, 316/316L, ect), 400 series stainless steel (410, 420, 440C), precipitation hardening stainless steel (PH17-4), and so on. The performance of each grade will be different due to the differences of compositions. Below we list out some popular material grades adopted in stainless steel forging:
304(L) grade is an austenitic stainless steel. It has good corrosion resistance in many environments and may be formed and welded with ease. It has excellent ambient and low temperature toughness properties.
Stainless Steel 304(L) has good inherent forgeability, but its differences from carbon and alloy steels must be taken into account. Type 304 has higher hot strength than carbon, alloy, even martensitic stainless steels, hence much higher forging pressures or more hammer blows are required to forge it – and other austenitic stainless steels. In fact two to three times as much energy is required to forge 300 series stainless steels as is required for carbon and alloy steels.
304 Stainless Steel Forging is widely used in the manufacturing of shafts, valve bodies, valve trim and the food industry.
316(L) stainless steel is the second most common stainless steel grade (after 304 stainless steel) and is commonly used in food and surgical stainless steel applications. The addition of molybdenum prevents specific forms of corrosion. By keeping the carbon below 0.03% max in this austenitic alloy has shown to minimize carbide precipitation during welding. Decreasing the sulfur in this grade will enhance its ability for electro-polishing. 316 SS is also known as marine grade stainless steel due to its increased resistance to chloride corrosion in comparison to 304 SS.
316L stainless steel is an extra low carbon grade of 316 stainless steel; generally used in stainless steel watches and marine applications.
316 stainless steel is widely used in manufacture of manways, pharmaceutical equipment, valve bodies, bleaching and dyeing equipment for the textile industry and the food industry. 316 Stainless steel is resistant to atmospheric corrosion, food products, sterilization solutions and many organic chemicals as well as a variety of inorganic chemicals.
Why Stainless Steel Forging?
Known for its corrosion and heat resistance, stainless steel is overall quality choice of material for forging.
By forging stainless steel, virtually any grade of stainless steel, the process enhances and amplifies the existing qualities of stainless steel. For example, the forging process improves the strength and corrosion resistance of stainless steel, enabling the grade to outlast and withstand harsher, more aggressive and extreme environments.
Another advantage of stainless steel forgings is that the process creates a unique and continuous grain flow that follows the stainless steel part unlike other processes such as casting or machining, thus allowing strength to be where it's needed.
Forging also can create a higher strength to weight ratio. By improving the mechanical properties of stainless steel, forging stainless steel will better your overall part.
Stainless Steel Forging Company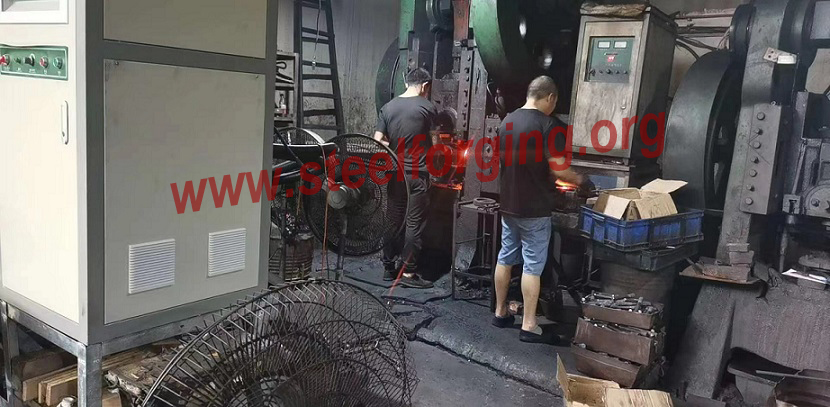 As closed die forging specialists in China, CFS Forge has the ability to produce the highest quality stainless steel forgings in good prices. We could customize stainless steel forgings in range of 0.05kg-30kg.
Our Value Added Services for Stainless Steel Forging
Machining Service
After forging, stainless steel products are always in rough shapes, to reach final shape, further machining operation is needed. CFS Company is also equipped with a series of machining facilities, in this way, we can provide machining service as well. As the fluidity of stainless steel is worse than other steels, so both forging & machining difficulties are larger.
Surface Treatment
Another value-added service CFS Forge can supply is the surface treatment. In terms of stainless steel forging, we can carry out below surface treatments:
Shot blasting: The most common surface treatment method for stainless steel forgings. Shot blasting is treated when there is no special requirement on stainless steel forged parts.
Pickling & Passivation: Pickling will help stainless steel forging to achieve smooth surface and passivation will form a protective layer with good corrosion resistance.
Mirror polishing: After mirror polishing, the surface finish of stainless steel casting will be improved greatly. Mirror polished stainless steel forging will look shining, like mirror.
Surface satin finish: A 240 grit finish on stainless steel forging is the most common requirement for surface stain finish on stainless steel parts.
Besides stainless steel forging, we could also produce alloy steel forging and carbon steel forging as requested. Pls contact us right now once you have any purchasing plan for your steel forging project.