What is Forging Tooling & Dies?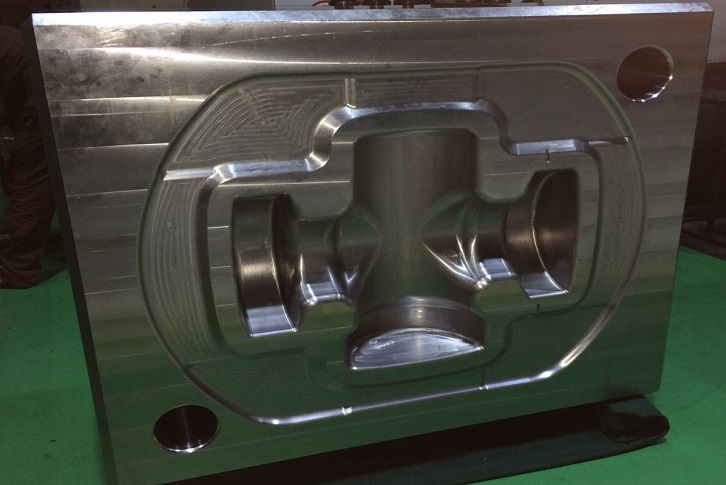 In closed die forging, metal billets will be pressed in high pressure under upper and lower dies to get desired shaped. And then trimming with the workforce of punch machine to remove the flash. This is a trimming process using trimming dies. So you can see forging tooling is necessary for all custom steel forgings in closed die forging process.
The strength of the tooling or dies for steel forgings must be much higher than steel forging materials. So common selected material of forging dies are tool steel, such as H13. In casting, for its pouring process, aluminum tooling is enough. So material cost of forging dies are higher than that of casting molds.
For the simplest shaped steel forgings, normally the tooling required is: forging dies and trimming dies. But for some thin wall products, the product might be easy deformed after forging or heat treatment. To ensure correct dimensions and tolerances, extra flatten die will be needed. However, in casting, just a pair of molds is enough. This is another reason why forging dies are much more expensive.
Tooling Cost for Steel Forging
Tooling cost is calculated according to the structure and dimensions of steel forgings. Normally, for a simple forged product less than 5kg, we may charge 2000-3000usd. But for large parts, or thin wall thickness parts, the tooling cost will be increased for added tool material or flatten dies.
So in quotation stage, we will send us our customer a offical quotation including tooling cost and unit cost.
If CFS company designed, engineered, and manufactured the tooling for your steel forging project, we will maintain that tooling at no additional charge for the life of the part. If the tooling wears out, breaks, or is otherwise damaged, we will repair and maintain it in ideal working condition for as long as you continue to contract with us for part forging.
CFS' In-house Tool & Die Capabilities

As professional steel forging company, CFS Forge has its own tool and die shop, and one of our core competencies is that we can develop and maintain the tool and die for steel forgings ourselves. We can develop precision tooling and dies to forge almost any part at net or near-net shape in precise tolerances. All tooling is custom made at our tooling facility, which helps us ensure the quality and accuracy of our tooling and reduces tooling costs.
We recently built a world class, climate controlled tool and die shop. Our vast in-house tooling manufacturing capabilities ensure quick turnaround of any custom-forged production runs. We produce 100% of our own die requirements internally through the use of CNC high speed mills checked by CMM.