Stainless steel offers excellent resistance to corrosion and high temperatures because it contains low levels of carbon and chromium. When the fasteners are exposed to a corrosive environment, there is nothing better than stainless steel fasteners. They are non-magnetic and offer low thermal and electrical conductivity.
When forming a new shape from raw stainless steel, its initial integral grain is first deformed to fit the unique overall shape. This results in continuous grain production throughout the part, and the new part is produced with improved strength characteristics. Forging produces stainless steel fasteners stronger than an equivalent cast or machined fasteners. For this reason, forged stainless steel fasteners are preferred when the safety and reliability are a priority.
Common Grades of Forged Stainless Steel Fasteners
Most stainless steels are austenitic, commonly called the 300 series. Many compositions are available in this series, but we primarily use types 304 and 316 because they are exceptionally corrosion-resistant. They differ only in the proportion of chromium and nickel and in the environments in which they are used.
When looking for 304 series stainless steel fasteners, you may come across the term "18-8". This term indicates the presence of 18% chromium and 8% nickel in the steel. Most 300 series fasteners have this 18-8 composition. However, it is not necessarily present in Type 304. Type 304 is one of the most popular fasteners in the 300 series and offers the best corrosion resistance.
Type 316 is somewhat less popular than Type 304 but offers excellent corrosion resistance. Like 304, type 316 does not have that 18-8 ratio. The concentration is 16-10, referring to 16% chromium and 10% nickel; it also contains 2% molybdenum. The molybdenum is added to gain superior resistance to chlorides that cause pitting. Type 316's composition provides high strength, so we primarily use it in highly corrosive environments such as chemicals, solvents, or saltwater. Type 316 stainless steel fasteners are handy in abrasive chemicals or direct salt spray applications.
Hot Forging Manufacturing Process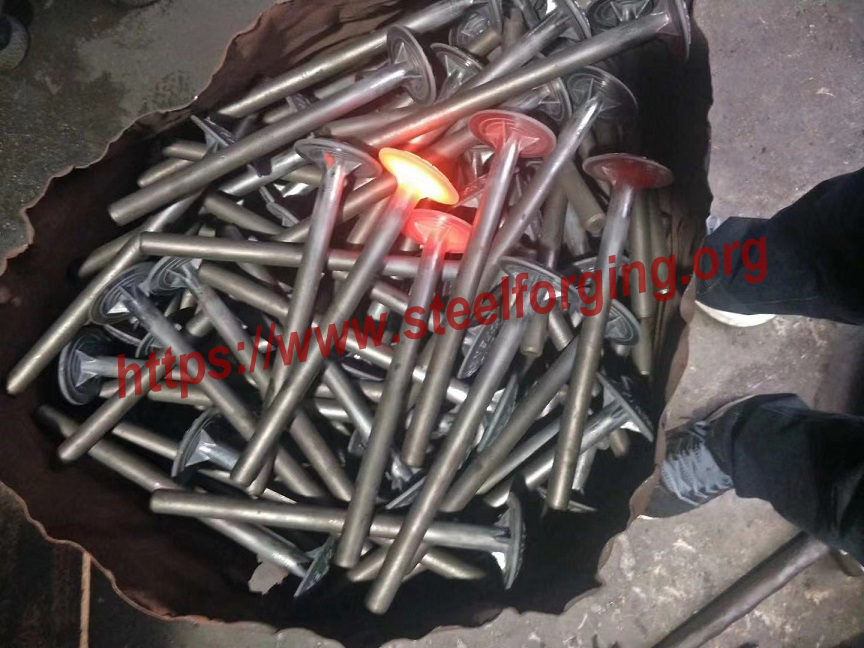 Solid steel material is used in hot forging process, which causes the metal to be "pressed" into dedicated dies. During this process, the structure is homogenized into more refined grains to increase the strength and flexibility of the product. The steel is hot, allowing it to deform into any shape, which is impossible with cold forging. The steel is deformed at its recrystallization temperature so that it will return to its shape when cooled. After forming, it is allowed to cool, which is an essential step because rapid cooling can cause deformation.
We can produce a wide range of stainless steel fasteners compared to other forging processes with hot forging. In addition, the dies are affordable, so we can easily use this process to produce small batches and shaped components. The fact is that other forging processes (cold and warm forging) are applicable to the production of high-volume fasteners with simpler geometry. This allows us to design highly complex dies and produce many parts. The hot forging process allows stainless steel fasteners to achieve:
Good ductility
Possibility to manufacture custom-made parts
Excellent surface quality
High formability ratios
Lower yield strength and therefore less energy required
Increased diffusion and therefore reduced chemical inhomogeneity
Forged Stainless Steel Fasteners Manufacturer – CFS Forge
CFS Forged is proud to be an internationally renowned stainless steel forging manufacturer for fasteners in China. CFS Forged is an expert in hot forging stainless steel fasteners of various shapes and sizes. We can produce any form, from fully customized unique heads to standard hex bolts, with amazing results. This is only possible because of our in-house tooling department.
Significant types of forged stainless steel fasteners:
Forged stainless steel flange hex bolts
Forged stainless steel hex bolts
Forged stainless steel socket screws
Forged stainless steel eye bolts
Forged stainless steel square bolts
Forged stainless steel T-head bolts
Forged stainless steel hex nuts
Forged stainless steel coupling nuts
Forged stainless steel wing nuts
Other forged stainless steel fasteners
We have modern forging technology, which enables us to offer high-quality, long-lasting stainless steel fasteners at affordable prices to all our clients worldwide. You can trust our products for the best quality, performance, and reliability.
With our manufacturing technologies, you can monitor the direct load in the fastener during service. This technology will revolutionize your application. You can save money if you know precisely what your fasteners are doing under load. It will help you ensure joint integrity reduce downtime, and equipment safety. We are a China-based manufacturer that assures you of quality and promises to focus on solving problems and doing so in a first-class manner.
If you want to know more about our services, contact us now to request a free quote!