CFS Forge is an ISO 9001 certified forging manufacturer in China. We provide open die forging services for various applications including Oil & Gas, Power Generation, aerospace, mining, heavy equipment, etc. Specialised in open die forging process, we deliver the superior products with short lead time. By soucing open die forgings from CFS, our customers can get a cost-effective price that cannot be met by our competitors. Currently, we deliver open die forgings to USA, UK, Canada, Australia, South Africa, Germany, etc.
Overview of Open Die Forging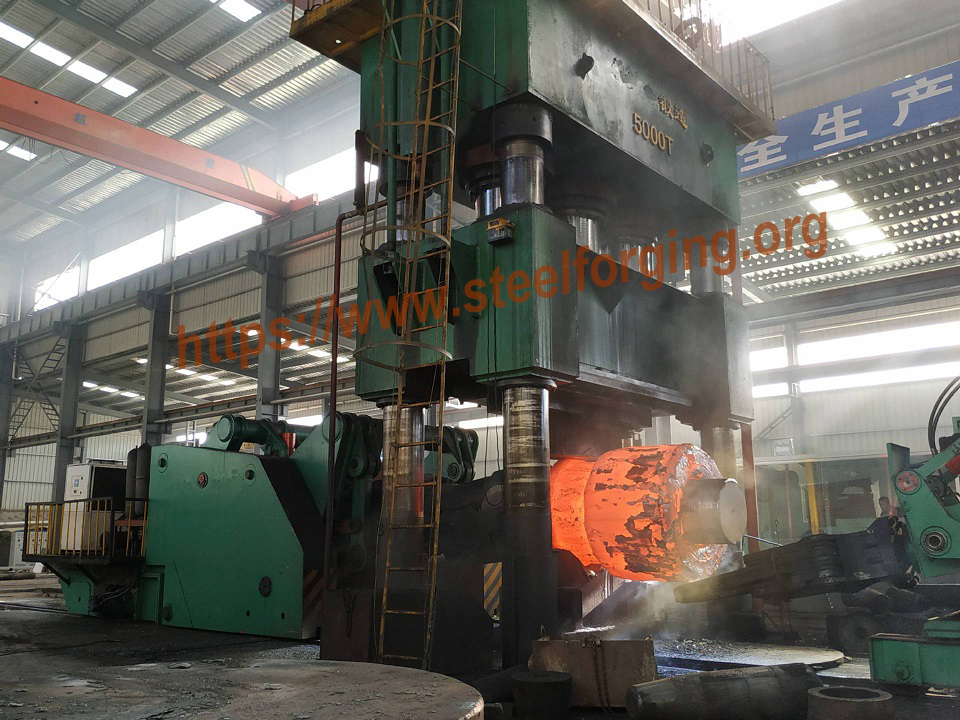 Open die forging is a processing method to obtain desired shapes of forgings that uses impact or pressure to deform the metal freely in all directions between the upper and lower anvil surfaces without any restriction. It is usually a hot forging process that heating the billets to a certain temperature for plastic deformation.
Advantages of Open Die Forging
Open die forging can improve the organization and properties of metal, so the quality and mechanical properties of open die forged parts are always higher than that of casting parts. Also, its strength is 50% -70% higher than that of castings, which can withstand large impact loads. The use of open die forgings can ensure the design strength of the parts while reducing the weight of the parts, which is of great significance to aerospace and transportation.
Open die forging can save raw materials. Open die forging process can produce the net shape or near net shape parts.
Open die forging is suitable for single-piece small batch production, and the flexibility to change the variety is greater.
Especially suitable for producing metal parts with simple shape and small cross-sectional changes such as shaft parts, disc parts or ring-shaped parts.
Open Die Forging Process

Raw Material Preparation: Once the order is confirmed, select the billets in correct material grade and specification according to the material requirements of customer drawings. In order to ensure the quality of raw materials, the chemical compositions should be rechecked before production.
Billet cutting: Same as closed die forging, cut the ingot or billet to reasonable size and weight according to product requirement.
Heating: Heat the materials to ensure that the heating temperature meets the forging requirements.
Forging: Put the heated material into the forging equipment, change the shapes of the material by hammering, pressing or rolling, real-time monitoring of the forging blank size, and control forging temperature. through the infrared thermometer.
Inspection: The preliminary inspection of the forging mainly includes the inspection of appearance and dimensions. In terms of appearance, the main inspection is whether there are cracks and other defects. In terms of size, the blank allowance must be guaranteed within the scope required by the drawings and well recorded.
Normalization: The purpose is to achieve fine grain, uniform structure, eliminate internal stress.
Rough Machining: After forging, machine the forging blanks simply to obtain different specifications of forgings.
Heat Treatment: A comprehensive process in which forgings are heated to a predetermined temperature, held for a certain amount of time, and then cooled at a predetermined rate to improve the internal structure and properties of forgings. Its purpose is to eliminate internal stress, prevent deformation in machining, adjust the hardness of the forging conducive to cutting. After heat treatment of the forgings, according to the material requirements of the forgings air cooling or water cooling, oil cooling and so on. Including: normalizing, quenching and tempering, quenching and other heat treatment.
Precision Machining: After rough machining & heat treatment, precision machine the forgings to meet the size accuracy and surface finish required in the drawing.
Final Inspection: It includes visual appearance inspection and mechanical properties inspection. The visual appearance inspection conforms to the size requirement on customer's drawing, we can perform Ultrasonic testing (UT), magnetic particle testing (MT), hardness, carburizing and other testings required in the drawings. Meanwhile, it is necessary to test the mechanical properties of forgings, mainly include yield, tensile, impact, metallographic and other tests.
Our Open-Die Forging Capabilities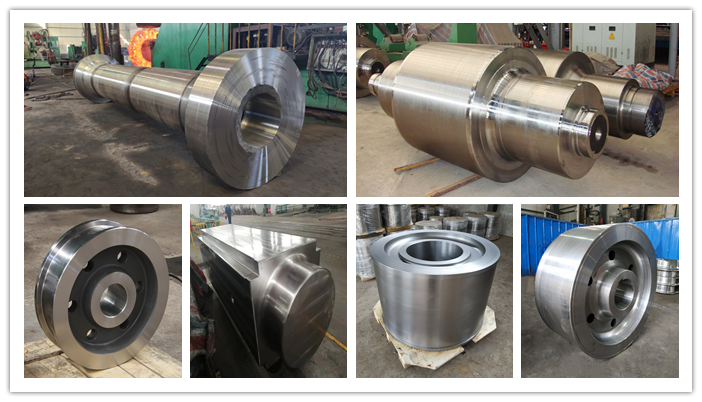 As a open die forging manufacturer for custom parts, CFS Forge is among the very few companies in China that has the capabilities to deliver quality forgings in all three main segments of the forging market – Open Die, Closed Die and Seamless Rolled Rings. We specialize in forgings for various industries, and have been supplying quality forged components to overseas companies with below capabilities:
Material: C20, C35, C45, SS304, SS316, 15-5ph, 17-4ph, 2205, Q235, Q345, 35CrMo, 42CrMo, 16Mn, 40CrNiMo, etc.
Weight: 100kgs-20tons
Forging range: Shafts, sleeves, rings, flanges, and other custom parts.
Value added services: Besides forging, we can also offer heat treatment, rough and precision machining, nondestructive testing, etc.
Applications: Aerospace, Mining, Oil and Gas, Shipbuilding, Transportation, Power Generation, etc.
Why CFS Forge for Open Die Forging Project?
Low Price
When selecting a open die forging supplier, pricing is always the most important factor for our customers to consider, especially when the budget is very limited. Ordering open die forgings from CFS Forge in China can help to save much cost, while maintaining same good quality as your local suppliers.
Experience
Our engineers are very professional on open die forging process, they well know how to deal with the possible issues during the production process.
Material Selection
We stock more than 10 materials that are suitable for various part applications and industries. Materials include: mild steel, alloy steel, stainless steel, etc.
Advanced Equipment
CFS has extensive in-house equipments for both manufacturing and testing. Your parts will be manufactured and inspected with our advanced in-house equipment ranging from 800t to 2,500t.
Fast and Convenient Delivery
Located in Ningbo, China, our customers can enjoy fast and convenient delivery either by air or by sea.
Contact CFS Forge for Your Open Die Forging Source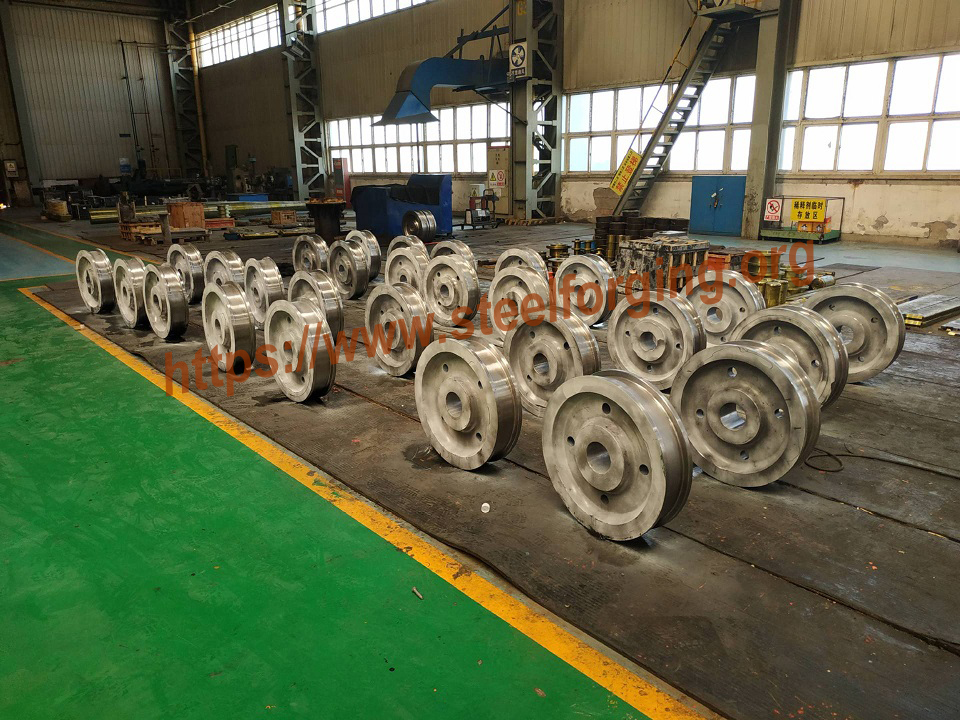 At CFS Forge, we have the experience and the capabilities to meet or exceed all your custom open-die forging needs. Contact our company today for more information or to request a quote.