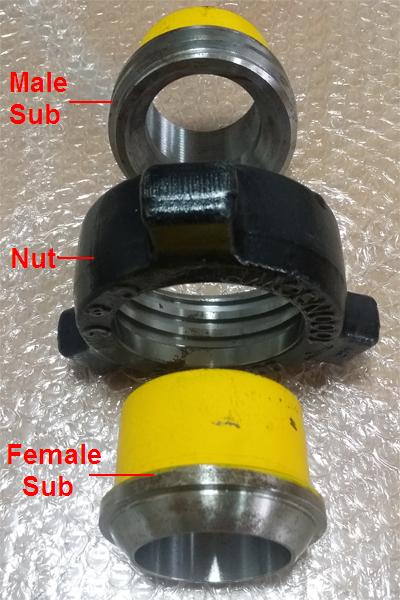 Hammer unions are widely applied throughout the energy industry. There are many sizes, shapes and pressure ratings of hammer unions, and when used correctly they are a safe and reliable means of transporting fluid. Perhaps one of the most critical elements to correct hammer union use is that the two halves are compatible. There are, however, combinations which will allow a high pressure hammer union to be mated with a low pressure union, leaving the user at risk of hose failure and serious injury.
Hammer unions consist of three parts: Male sub, Female sub and Nut. The male sub of the unions are the external threaded portions that are welded to the end of a pipe that is connected to the tank wall. Hammer union nut is through which the pipe continues further leading to the huge o-ring thereby entering into the female part. Hammer adjustments are the most necessary parts. The nut that is threaded on the interior is hammered and tightened on to the female part. Unions have a locked up o-ring that is squeezed together into the "D" square cross section area thereby sealing the fluid pressures up to 150 psi in opposition to the external diameter of the connecting pipe in the hammer unions. Unions generally are available in the market in two basic types: Hammer standard union and Hammer sour gas union.
Hammer Union in Forging Process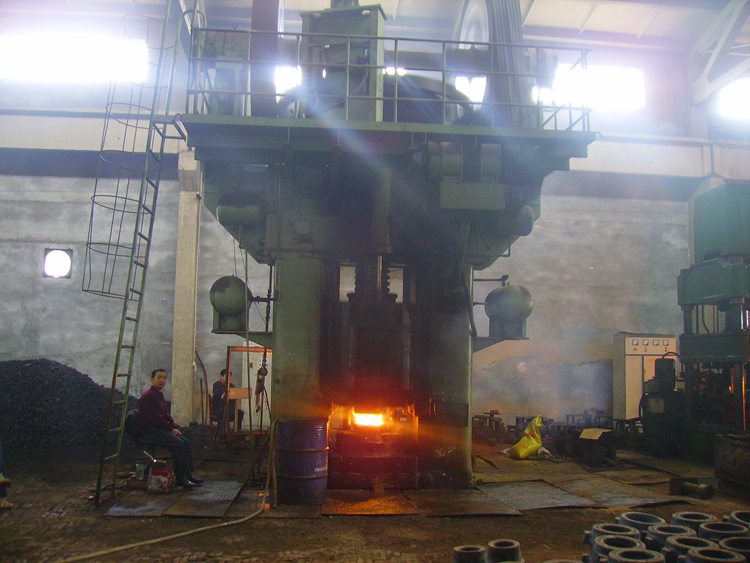 Fly Forge is proud to produce and supply a full line of custom hammer unions, from Figure 100 to Figure 1502. Our company also offers Hammer Union parts and accessories to accommodate the needs of our customers. Hammer unions are manufactured from steel forgings using materials appropriate to specific pressure ratings. Most widely used material grade is A105 steel.
Properties of A105 for Hammer Union
A 105 is an ASTM specification dealing with forged carbon steel piping components including hammer unions, flanges and fittings.
The steel alloy involved is a low carbon, manganese and silicon containing steel similar to AISI 1330, but with lower manganese content.
It is the steel forging alloy that would be forged at temperatures in the range of 2200 to 1700 F followed by quenching and tempering or normalizing.
Machinability is good as for any of the low alloy steels.
Advantages of Steel Forging over Casting for Hammer Unions
In Forging, thermal and mechanical energy is applied to steel billets or ingots such that the material changes shape while in a solid state. In Casting, molten metal is poured into a mold to produce a component of hammer union and allowed to solidify (see difference between forging and casting)
Forged steel is usually stronger and more reliable than castings since forging involves alteration of the grain flow imitating the shape of the part. The thermal cycle and deformation process leads to grain refinement and recrystallization which eventually strengthens the resulting steel product.
Forged vs cast hammer unions
Forged steel hammer unions are tougher than cast ones.
Forged steel hammer unions has higher impact strength.
Forged hammer unions eliminates the occurrence of shrinkage, porosity, cavities which are usually encountered in castings.
High strength is attained by the tight grain structure of forged hammer unions. Thereby, reducing need for expensive alloys to achieve high strength components.
The grain structure of forged hammer unions offers high wear resistance.
Hammer Union Manufacturer and Supplier in China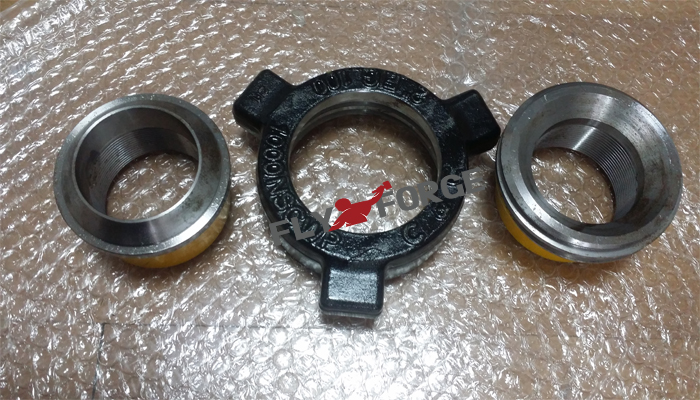 CFS Forge is the premier closed die forging provider in China. With annual output 10000t, we have totally 8 production lines to ensure timely delivery. In our forging factory, we have forging equipments from 300t to 2500t, so that we can supply both small and medium hammer unions at your service. Besides, we can also offer below services:
We have our own tool & die shop, forging shop, and machining shop. So we can supply hammer union components in forged or machined finished status. No matter whatever products you need, we have the ability to make forging dies, forging blanks, and machined forgings.
Redesign service–Once you feel that your current design is too costly, or the working performance is not very good. Come to our company, our engineer can help you to redesign the part combing our forging experience and your application. To improvide our customer service, our redesign service is free of cost.
Convert casting into forging–It is common that defects are always produced in casting. So when you would like to change the metal casting way of your hammer unions into forging, Fly Forge will be your wise choice for this job. We will revaluate your current design and give you a new forging solution for reference.
Besides hammer unions, we could also customize other forged parts for our customers in closed die forging process, refer to closed die forging application…
Tips on Identifying Male and Female Hammer Union Parts?

Ordering Hammer Union parts or other forged fittings can be complicated at times. Sometimes there is confusion when trying to identify which connection your customer needs. This confusion often leads to returns and exchanges.
In the field, especially on the industrial side, the connection with the ACME threads is typically referred to as the Male Half/Male Sub. However, it is just the opposite. The diagram below will help you and your customer distinguish which part is needed. When purchasing Hammer Union parts from us, please be sure to indicate exactly which parts are needed. Fly Forge usually produce and sell individual forged components (i.e. Female Sub, Male Sub, Nut/Lug Nut) and complete Hammer Unions.
Any purchasing plan for hammer unions, pls feel free to contact us!