Shackles are the parts mostly used in every rigging, lifting, and material handling equipments. They serve as a critical function of connecting various pieces of lifting equipment together. Such a powerful part requires proper handling and knowledge in order to unleash its full potential. Shackles are what we like to call 'The Industry Workhorse.' They are the reason cranes lift and I-beams rise.
Types of Shackles
Shackles are manufactured in a wide variety of types and sizes. Before choosing the right shackle for application, it is necessary to understand the types of shackles.
Both types of shackles come with different pin options, including round pin shackles, screw pin shackles, and bolt-type shackles. In addition, we can also devide shackles in galvanized type and stainless steel type.

Round Pin Shackles can be used in tie down, towing, suspension of lifting application where the load is strictly applied in-line. Round pin shackles shoule never be used in rigging applications to gather multiple sling legs, or where side loading conditions may occur.
Screw Pin Shackles are used in pick and place applications. For permanent or long-term installations, we suggest the use of bolt type shackles. Screw pin shackles can be used for applications involving side-loading circumstances. Reduced working load limits are required for side-loading applications. While in service, do not allow the screw pin to be rotated by a live line, such as a choker application.
Bolt-Type Shackles can be used in any application where round pin or screw pin shackles are used. In addition, they are recommended for permanent or long term installations and where the load may slide on the shackle pin causing the pin to rotate. The bolt-type shackle's secondary securement system, utilizing a nut and cotter, eliminates the requirement to tighten pin before each lift or movement of load.
Hot Forging Process of Shackles

Generally, most all load rated shackles are hot forged. Hot forging is the process of heating a piece of steel and hammering it into shape. This hot closed die forging process creates the desired steel grain structure and makes the fitting stronger.
Forging of shackles assures clear lettering, superior grain flow, and consistent dimensional accuracy. A closed die forged bow allows for an increased cross section that, when coupled with quench and tempering, enhances strength and ductility. Closed die bow forgings combined with close tolerance pin holes assures good fatigue life. Close pin to hole tolerance has been proven to be critical for good fatigue life, particularly with screw pin shackles.
Closed die forging produces consistent dimensions. Close tolerance holes and concentric pins with good surface finishes are provided by CFS Forge and are proven to provide improved fatigue life in actual use. CFS' shackles are fatigue rated as well as load rated.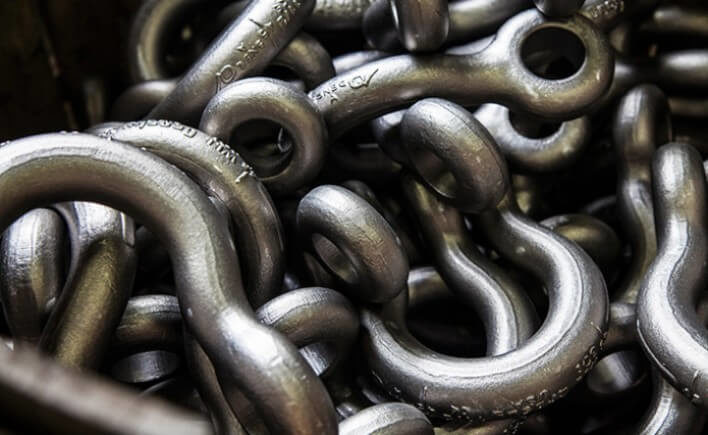 The other key process to making shackles is heat treatment. Quenching and tempering assures the uniformity of performance and maximizes the properties of the steel. This means that each shackle meets its rated strength and has required ductility, toughness, impact and fatigue properties. The process of quench and tempering makes the shackle body and pin stronger, yet ductile.
This quenching and tempering process develops a tough material that reduces the risk of brittle, catastrophic failure. The shackle bow will deform if overloading occurs, giving warning before ultimate failure.
Shackle bodies are quenched and tempered, which enhances their performance under cold temperatures and adverse field conditions. Quenched and Tempered carbon shackles are recommended for all critical applications including overhead lifting.
Surface Coating of Shackles
As a protective coating, shackles could be hot dip galvanized. Our galvanized shackles provide long-lasting durability and quality that'll last for many years to come. In general, galvanized shackles are ideal for industrial applications where moisture is not a major issue. Galvanized steel has a thin coating of zinc oxide to protect the steel from elements that lead to corrosion and oxidation. Galvanized is also a great value as it tends to be less expensive than stainless steel, but still maintains the shackle's strength and durability.
Of course, not all the shackles are hot dip galvanized. For marine application, stainless steel shackles, due to its corrosive-resistance, are more ideal. Our stainless steel shackles are made of type 316 stainless steel, which is considered "marine grade." Type 316 marine grade stainless steel contains molybdenum, which makes it resistant to ocean water mist or spray, so it's especially useful in extreme conditions or moisture or in a high chloride environment. Type 316 stainless D shackle equipment is ideal for sailing and yacht rigging uses.
CFS Forge is the leading China forging company for shackle bodies as welll as other components. If you would like to produce your shackles by forging, pls free feel to send us the drawing or sample!