Closed die forging is one of the main manufacturing process to produce small steel forgings. For large steel forgings, open die forging is always preferred. Of course, such steel components could also select other processing methods, such as casting and machining.
After studying the closed die forging process, people will have a deeper understanding on this technique. Closed die forging is the process mainly by pressing hot round bars in closed dies for net shape or near net shapes. This forging operation will make products in higher strength and toughness, which is not obtained in other processes.
Why Use Closed Die Forging? What are the Advantages?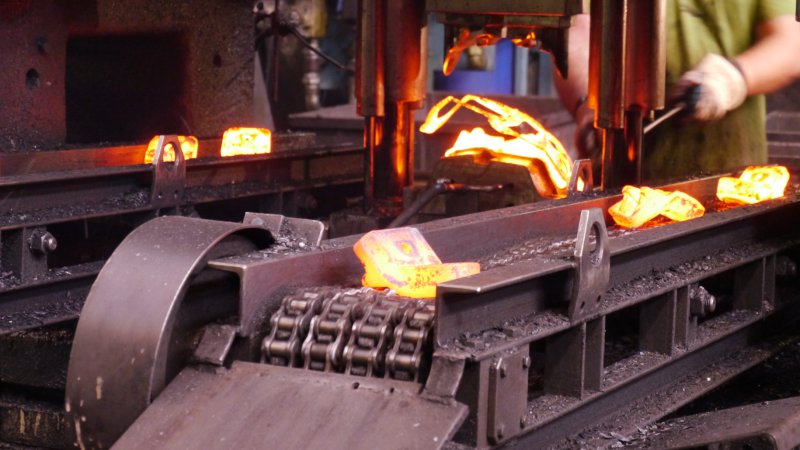 High Strength
We usually say the strength of products will be increased after closed die forging, as the steel billet is shaped during the forging process, its internal grain deforms to follow the general shape of the part. As a result, the grain is continuous throughout the part, giving rise to a piece with improved strength characteristics. Higher strength will help to increase the working performance of products, thus to longer the serving time. That is why closed die forging is always applied in most applications.
Close Tolerance
Forging dies are necessary to start closed die forging, such forging dies are precision machined by CNC machining center. So with the workforce of forging dies, the shapes of products are always net shape or near net shape, we normally could win a close tolerance within ±0.5mm, for some small parts, a closer tolerance ±0.3mm can also be achieved. Such close tolerance will greatly reduce post machining operations and save cost. However, machining is always needed in open die forging (refer to open die forging vs closed die forging)
Better Surface Finish
Deforming the shapes by precise forging dies, a good surface finish is always gained. In closed die forging, surface of products are much smoother than equivalent cast ones. Normally we could control the surface finish of closed die forgings within Ra6.3 after shot blasting. Like water glass casting, the surface finish is only Ra12.5, and has to be machined for better surface finish.
Low Overall Cost
Mass production of closed die forgings lends itself to maximum savings. Due to the close tolerances and good surface finish, closed die forging will require little machining or no machining. Besides, the unit price is competitive than that of other processes. So the overall cost of closed die forging is low for large volume production.
Of course, closed die forging is not suitable for all the metal components, there are also some disadvantages. For example, closed die forging can not make quite complex products. Besides, for too large products, we would like casting or open die casting process due to its limitation on dimensions.
Why Closed Die Forging from CFS Forge?
CFS Forge began its closed die forging business in 1994. Since then, CFS has steadily grown to be a leader in Chinese forging industry, known for its engineering and service excellence.
Today, CFS Forge employs over 150 people with area over 20,000 square meters, with over 7 production forge units, and a dedicated machining facility for finished products and assemblies. The business is now run by the family's third generation.
CFS Forge continually looks to expand and modernize, while remaining committed to the quality and service our customers have come to expect over our more than 20 year history.
We provide a broad spectrum of products to many markets, including Aerospace, Aftermarket Auto, Agriculture, Defense, Oil & Gas, Railroad, Recreational and Heavy Equipment. CFS provides products in closed die forging that meet or exceed the stringent requirements of each industry, including special certifications. We have worked jointly with customers in each market to develop product advancements that have led to products with extreme reliability and increased useful life. Whether looking for just a forging, or a finished component solution, Fly has the right partners to align with our customer's needs.