What is Flail Mover?
Flail mowers are useful for tough jobs, such as cutting grass on uneven ground, cutting high grass, weeds and even brush or mowing in areas that have debris and rocks. A flail mower does not throw grass; instead it cuts grass finely, almost pulverizing it, and leaves the cuttings on the ground. The teeth or flail blades, also called knives, are short pieces of metal attached to an axle that turns rapidly, cutting grass and other plants. A flail mower can be mounted on the front, back or side of a compact, garden or farm tractor. For the best results, the horsepower rating of the flail mower gear box needs to match or be compatible with the horsepower of the tractor. Some flail mowers require a tractor to have a minimum of 25 horsepower, which some garden tractors have.
Flail Mover Blades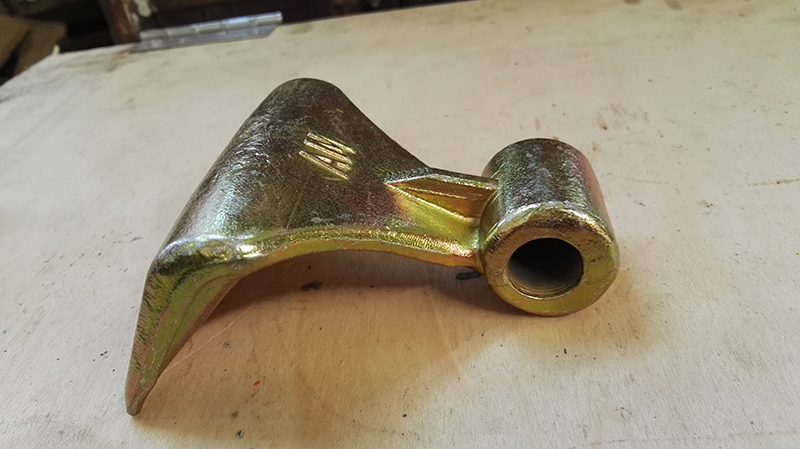 Due to the different brands and sizes of flail mowers, flail mover blades come in different sizes. Each size is the width of the drum or rotor, and the sizes usually range from 48 to 102 inches. The number of flail mover blades and their arrangement varies. Flail mover blades are measured as blades per foot of rotor; a mower with a large number of flail mover blades generally gives a closer and cleaner cut than a mower with fewer flail blades. Individual flail mover blades usually are attached to the rotor in pairs, forming a Y- or T-shaped configuration. In some mower models, flail mover blades are attached in staggered rows to provide a smoother cut.
Types of Flail Mover Blades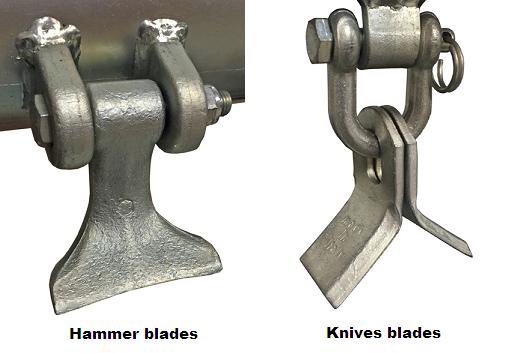 Flail Hammer blades (T shape)
Flail hammer blade is the blade that assembled to the flail mover using a bolt & nut,which is a type pf powered garden or agricultural equipment, such equipment is used to deal with heavier grass or scrub which can not be removed by normal lawn mover. Flial hammer blades are attached to the rotating horizontal drum. And the rows of blades are usually staggered to offer a complete cut. If a flail hammer blades strikes an immovable object, it simply bounces off. Other rotary type mowers have a tendency to grab and throw the object out of the mower deck if its small enough.This fact makes the flail mower best suited for areas where thrown objects would cause damage.
Flail Knife Blades (Y shape)
Flail Knife blades is the blade with a Y shape apperance using a clevis.
Flail Hammer Blades VS. Knife Blades
When you design o buy a new flail mower, you will have a choice of the Y Knife Blades or Hammer Blades. The Y-Blades are great when cutting tall weeds and overgrowth and can also offer a nice cut to your lawn. However,if you are need to cut tree saplings and dense overgrowth,the flail hammer blades are used,which are wider, heavier blades than the Y-blades. No matter Flail hammer blades or Y knife blades,either set of blades will make a perfect solution for cutting.
Although flail movers are very effective when cutting overgrown grass,clearing brambles,and the perfect tool for hedge cutting even like a tree branch,it is very important for you to choose the right option.Below we will introduce different types of blades(hammer blades vs knives blades) for flail movers.
When cutting grass and brambles,a flail mower head fitted with knives,or Y shape blades is the best choice.They are more of a knife and less of a mulcher and they leave a very clean cut and a much tidier looking finishing. Besides,the Y shape blades(knives blades)can also be used for light hedges and they can cut branches up to 2 inches (some of our customers use them to cut much thicker things but this is not recommended!!) The knives are standard fitting for the LS1 series of hedgecutter, for mini diggers from 1,5 to 2 Ton, but can be used with flail mower heads up to 1200 mm for machines up to 16 Tons.
However,in most cases,more "cutting power" is required to remove thicker branches, or simply don't want to worry about what they are going to hit when cleaning an area or they cut hedges. In this case,we suggest the flail mower head fitted with flail hammer blades.Flail movers with hammer blades can cut up branches up to 4 inches,and moreover,they can cut everything the Y shaped blades can do (grass, brambles, briars and bushes).So the fuction of hammer blade flail mover is stronger than that of Y blade flail movers.That is why flail hammer blades are more common sold in the market.
Maintenance of Flail Mover Blades
Smooth or fine-cut flail blades are largely self-cleaning. In order to extend their life, the blades can be resharpened. Sharp cutting edges reduces the horsepower needed for the blades' operation.
Steel Forging for Flail Mover Blades
CFS Forge is the direct steel forging company for custom flail mover blades. Flial mover blades are recommended in steel forging production process because our closed die forging technique can produce flail mover blades in higher strength and better working performance.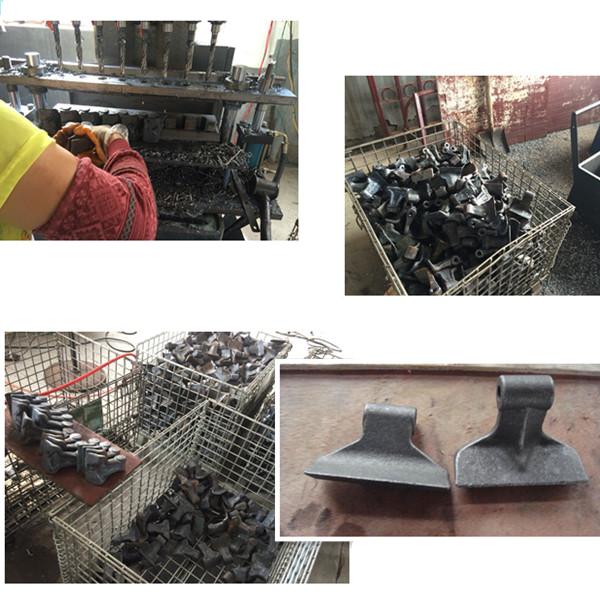 Why Steel Forging for Flail Mover Blades?
High production efficiency. In the chamber cavity of mould, the deformation of the steel billet is proceeding, so we can quickly obtain the required flail mover blades.
Steel forging can produce any complex shaped flail mover blades, and the distribution of metal flow line is more reasonable. Besides, steel forging process can improve the serving life of flail mover blades.
The size of steel forged flail mover blades is accurate,we can also achieve better surface quality, and smaller machining allowance.
This closed die forging process will also reduce material waste and reduce machining work. Under the condition of enough batch, it will reduce the cost of flail mover blades eventually.
The production operation is easy, so the work force is low.
More Steel Forging Advantages…
Material of Forged Flail Mover Blades
Considering the wear resistance of flail mover blades, suggested material grade of flial mover blades is 42CrMo.

Heat Treatment of Flail Mover Blades
Quenching & Tempering is the most cost effective heat treatment method to improve the hardness of flail mover blades. Normally forging blanks could only reach hardness around 20HRC. But after heat treatment, an ideal hardness 48-52HRC can be achieved. Higher hardness will help to improve the wear resistance of flial mover blades, thus to longer the serving life.