Steel Forging is one of the oldest method to produce steel components in a solid status. In steel forging, billet or bar pieces are cut to length and then heated to the plastic or forging temperature of the specific steel alloy. The piece is then placed into a press, where tons—and sometimes tens of thousands of tons—of force are used to mash the soft billet or bar into the void of the forging dies.
Two types of dies are used in the steel forging process. The first is "open-die," for which the forging process yields a part close to the desired shape and geometry. The second is "closed-die," which can yield parts that require minimal machining. The closed-die process yields a part with some exterior flash around its periphery that needs to be removed in a second pressing operation. After the part has been forged and the flash removed, it is ready for post-weld heat treatment, if required, and then final machining to shape.
Why Steel Forging for Valve Components?
Steel forging in closed dies can produce precision valve components with net shape. Less or no second machining operation will be done.
Due to the pressing process of steel billet, closed die forging will greatly add the strength of valve components. Higher strength is really important for the application of valve components.
The steel forging process is ideally suited to smaller valve components because of the cost of the dies as well as the cost of the forging process itself.
Steel forging is workable for all custom valve components, such as valve body, valve disc, etc.
The quality of forged steel vave components is almost always better than the same parts when casting.
Steel Forging for Valve Components in ASTM A105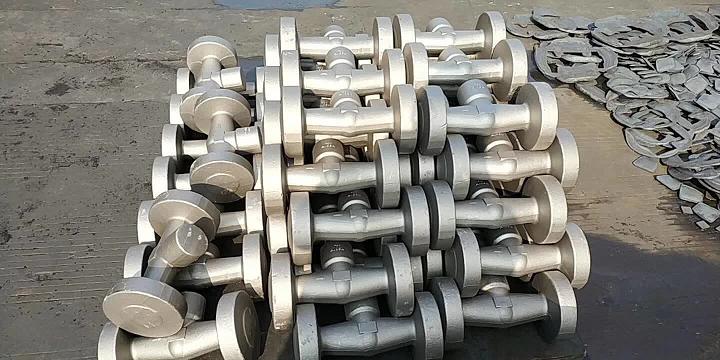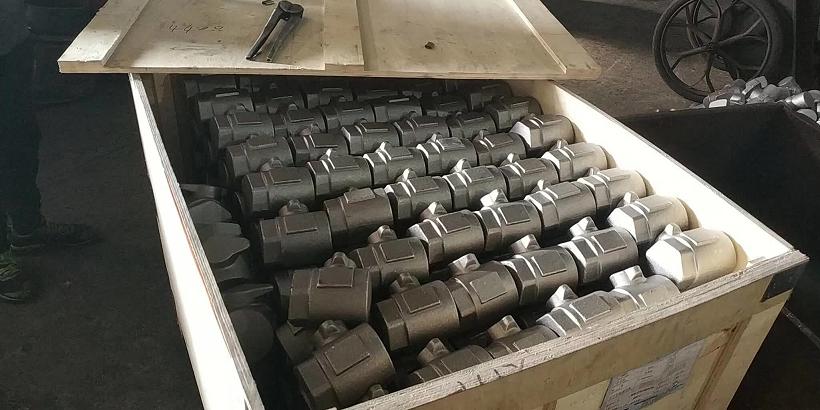 China forging company CFS Forge makes valve forgings for flow management applications.
The valve body are closed die drop forged on our forging equipments in different tons due to the different dimensions of products. These carbon steel forgings are used in oilfield industry.
We produce these vave components and a range of other forgings for steam flow management, for one of our long-standing customers. The drop forged valve components are produced in batches of 1000 or 2000 at a time. This small batch production allows our customer to minimise his inventory and improve his cashflow.
Forging or Casting? Which is Better?
Forging is better than a casting bcos internal defects like blow holes, shrinkage will not be there in a forging.
Also the dimensional conformity and finish of a forging will be better.
Generally smaller size valve components are made from forging because of its size and good production volumes.
As the size increases, the forging becomes difficult.
Depending on the severity of application different NDE techniques will be used. For forging UT and casting RT is generally employed.
In conclusion, if money was not an object in valve components procurement, forging would probably be chosen over casting because of the much higher quality. However, castings and forgings both have a place in the world of valve component manufacturing. Also, many times a valve will contain both castings and forgings. For small valves, the choice of which process to choose, forging or casting, is usually an economic one. Yet sometimes the cost analysis is a toss-up, leaving the amount of production time required for each process as the determining factor in choosing a casting (http://www.investmentcastchina.com/valve-castings/) over a forging.
Why CFS Forge?
First of all, we are the expert in manufacturing valve forging components. We can supply custom solution on the basis of original design to extend the serve life of products, such as choosing better material, improve the old design, reduce machining operation, ect. All these services will help our customers to be more competitive in their market and win more orders.
Besides forging workshop, our company is also equipped with machining & heat treatment facilities. Our overall capability is our obvious advantage over other forging compaines.
Located in Ningbo, China. It is very convenient for us to ship steel forgings for valve components to our customers' destination.
We promise not to supply similar products to any other compaines that may compete with our customers. This will protect our customers to better sell their products, and win more market share.
Therefore, if you are looking for a good forging company with competitive price in China, pls feel free to contact us. We will go back to you timely.